---
Anti-Chafing Sport Spray
HX-S99
Spray type anti-chafing protection, easy to use, medical grade ingredients, will not cause allergies, ultra-thin layer, does not affect movement, and is not sticky.
Anti-friction spray
Introduction
CHAFING-HOT-SPOT PROTECTION
Anti-chafing spray, spray application for easy to use, no stick to hands and clothes during use. Using medical-grade ingredients, it is waterproof, anti-sweat, non-sticky and volatile quickly. It can quickly form a highly breathable protective film on the skin, eliminating skin allergies, blisters and discomfort caused by friction. Ultra-thin layer, does not affect movement, can be removed with water and soap.
Suitable for all kind sport use, e.g., Triathlon, Cycling, Marathon, Surfing, Boating and Motorsports.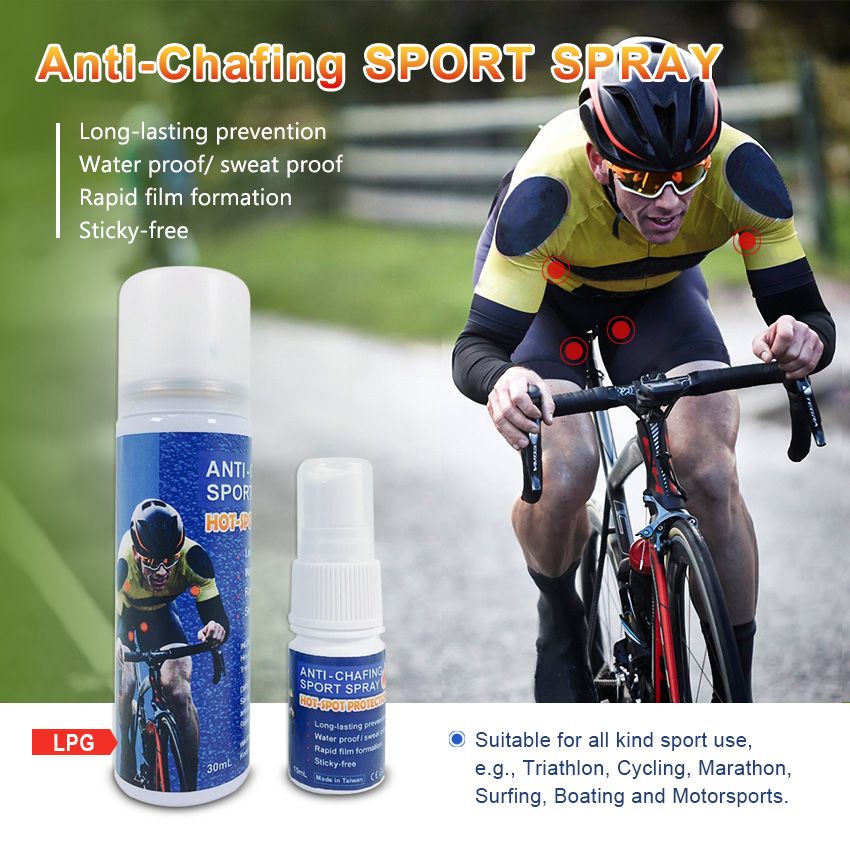 Features
Long-lasting prevention
Water proof/ sweat proof
Rapid film formation
Sticky-free
Ingredients
Hexamethyl Disiloxane, Dimethicone, Trimethylsiloxysilicate, essential oil, LPG.
Directions for Use
Spray directly on prone to problem areas to form a layer of protection film. Repeat for desired thickness.
OEM / ODM Cooperation is Welcomed
For any further question ( Minimum Order Quantity, Prices or Domestic Distributor), please fill out the inquiry form, we will get back to you as soon as possible. Let us work together to make your product come true and hit the market successfully.
Related Products

---

Files Download

---