PVP Oral Rinse
Introduction
ORAL MUCOSA PROTECTION
Hi-MUPRO PVP-Moisturizing Mouthwash is a kind of oral rinse for mucoadhesive wound protection, it formulated with PVP and SB, can increase the moisture of oral mucosa and maintain the oral alkaline environment, prevent overgrowth of aciduric bacteria.
Patients receiving radiation therapy or chemotherapy may develop oral mucositis. Hi-MUPRO PVP-Moisturizing Mouthwash can effectively prevent and reduce the occurrence of oral mucositis. No alcohol and chlorhexidine. No stimulate the wound.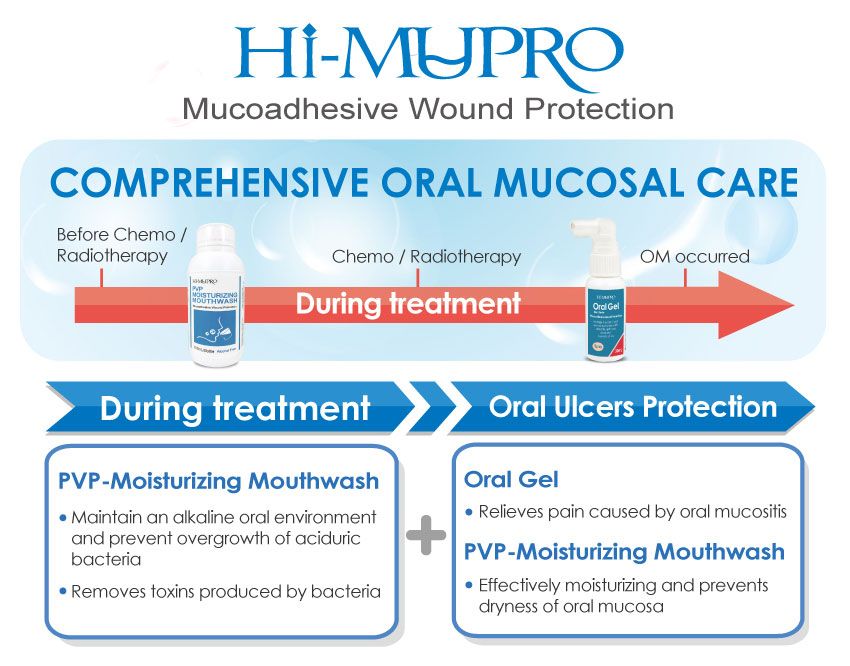 Ingredients
Sodium Bicarbonate (SB), Polyvinylpyrrolidone (PVP), Glycerin, Menthol, Stevia, Potassium Sorbate, Pure water.
Directions for Use
Use it in the morning and in the evening. Pour 20 ml into a cup. Rinsing for 30 seconds then spit it out. Dry mouth symptoms can use every 3 to 4 hours.
OEM / ODM Cooperation is Welcomed
For any further question ( Minimum Order Quantity, Prices or Domestic Distributor), please fill out the inquiry form, we will get back to you as soon as possible. Let us work together to make your product come true and hit the market successfully.
Related Products

---

Files Download

---