---
Blood Glucose Monitoring System (KareU+)
KareU+
The advanced model KareU+ with stripe eject button design to effectively avoid cross-infection. Use only 0.5 µl small blood sample to quickly produce accurate results within 5 seconds. 450 memories and day average, before- and after-meal marking, with 4 sets of reminders and ketone warnings, it is the best solution for your daily blood sugar health !
* mg/dL and mmol/L available.
Glucose Meter, Glucometer
KareU+ Blood Glucose Monitoring System
Fast & high accuracy, KareU+ is designed for daily blood glucose monitoring. Ketone warning function can help user to be aware of whether blood ketone exceeds the standard.
The KareU+ Blood Glucose Monitoring System is intended to be used for the quantitative measurement of glucose (sugar) in fresh capillary whole blood. The KareU+ System is intended to do the in vitro diagnostic use for the people with diabetes at home and the health care professionals in a clinical setting.
The KareU+ Blood Glucose Monitoring System is made in Taiwan, high quality and accuracy, meets ISO 13485, ISO 15197, GMP, TFDA and CE mark standard. It's the best glucose meter for your wholesale, distribution, OEM and ODM purposes.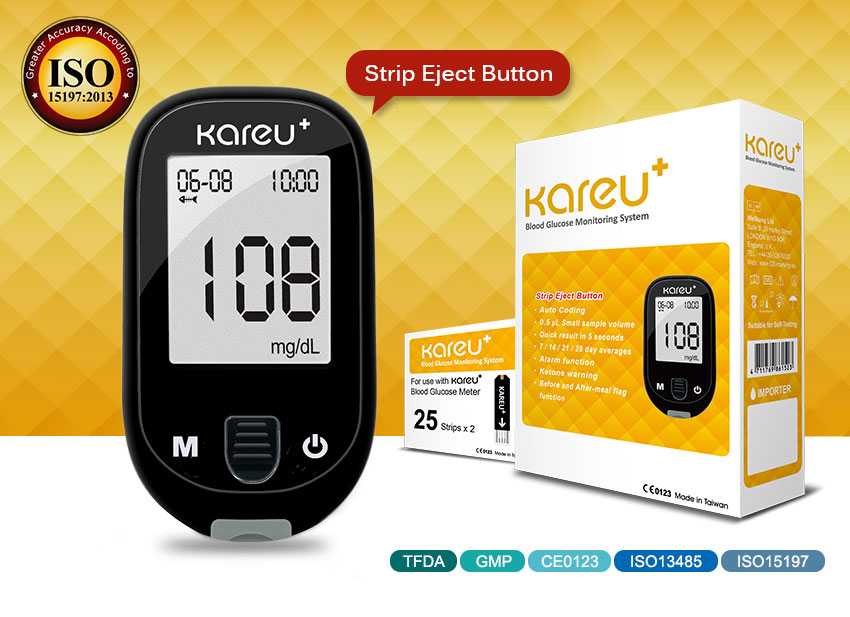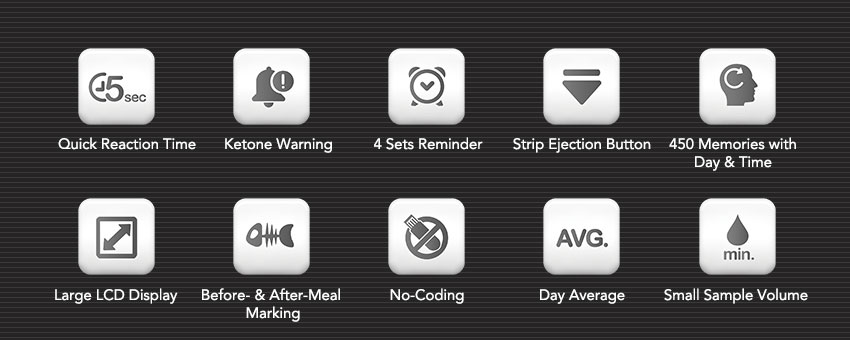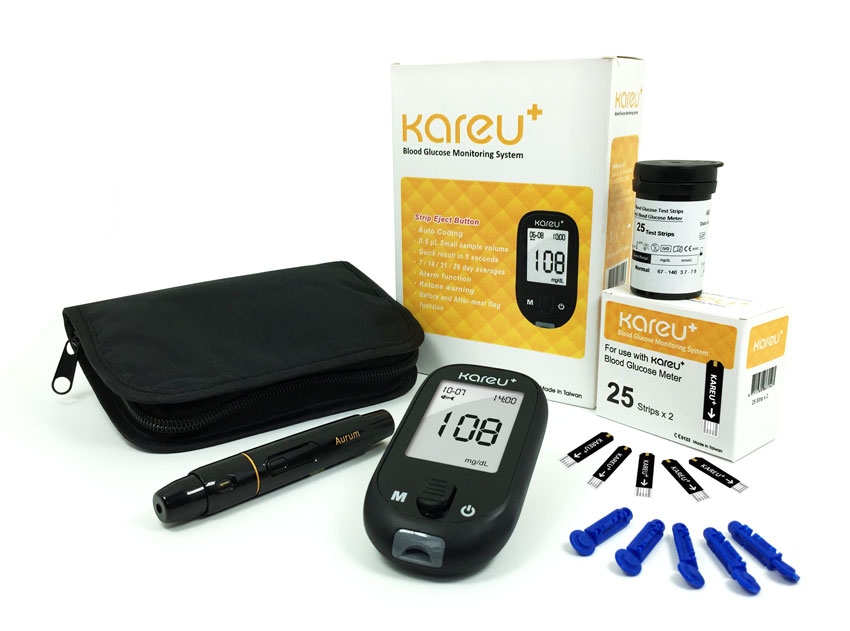 Features
Strip eject button
0.5 µL sample volume
5-Second reaction time
450 memories with date and time
7-, 14-, 21-, 28-day average
Ketone warning
4 sets reminder
Before- and after-meal marking
No coding
OEM / ODM Cooperation is Welcomed
For any further question ( Minimum Order Quantity, Prices or Domestic Distributor), please fill out the inquiry form, we will get back to you as soon as possible. Let us work together to make your product come true and hit the market successfully.
Specification
Calibration
No coding
Sample Types
Capillary whole blood
Measuring Range
20 ~ 600 mg/dL (1.1 ~ 33.3 mmol/L)
Hematocrit Range
30% - 55%
Sample Volume
0.5 µL
Measuring Time
5 sec.
Memory Capacity
450 memories with date and time
7-, 14-, 21-, 28-day average
Meter Dimensions
91.5 x 50.7 x 17.4 mm (3.6 x 2.0 x 0.7 inches)
Weight (with battery)
47.3 g
Power Supply
CR2032 coin battery x 1
Battery Lifetime
Over 1,000 tests
Operation Altitude
3,275 meters (10,745 feet)
Operating Humidity
10% - 90%
Operating Temperature
10℃ - 40℃ (50℉ - 104℉)
Related Products

---

Files Download

---