---
Wound Film
HX-B10
Fast protection for small wound, general trauma and skin friction areas.
. Prevent wound infection.
. Ideal first aid for wounds in hard-to-cover areas.
. NO need to replace dressing when taking a shower/bath or wash dishes.
Waterproof Liquid Bandage
Introduction
WATERPROOF LIQUID BANDAGE FOR HARD-TO-COVER CUTS AND WOUNDS
Hannox Wound Film is a waterproof liquid bandage. It is transparent, colorless, extensible and suitable for epidermal wounds or cuts that could not easily be covered by traditional bandages.
The Wound Film can form a super thin and breathable protection layer to cover wounds. It dries quickly and stays in place firmly like a second skin. Effectively seals out water contents, dusts and bacteria from entering the wound area, protecting the wound from infection and supporting natural healing.
Prevents pains and traumas caused by water or other foreign particles entering the wound during cooking, cleaning, swimming or other activities.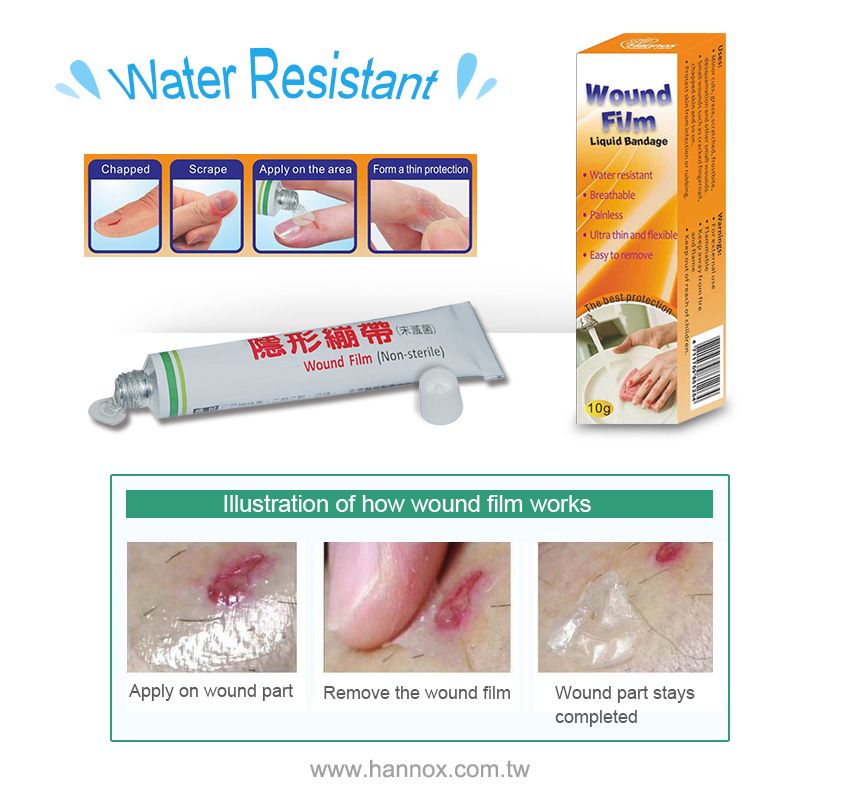 Ingredients
Ethylcellulose, Ethyl Acetate, Alcohol
Intended Use
Protect cuts and scrapes from second hurt
Cover wounds in those areas where is hard-to-cover with a bandage
Ideal for athletes
Features
Water-resistant and breathable
Ultra-thin and flexible
With handy brush applicator, convenient for use and to carry around
The liquid bandage is clear and colorless, making it inconspicuous
Easy to apply and remove
OEM / ODM Cooperation is Welcomed
For any further question ( Minimum Order Quantity, Prices or Domestic Distributor), please fill out the inquiry form, we will get back to you as soon as possible. Let us work together to make your product come true and hit the market successfully.
Related Products

---