---
Sting Free Liquid Bandage(Non-sterile)
HX-SB30
Invisible, flexible & painless, the alcohol-free bandage is designed for small cuts and wounds in the place where the ordinary bandage not easy stick to.
Introduction
Sting-Free Protection for Small Cuts and Wounds
Hannox Sting Free Liquid Bandage is a high molecular weight polymer-containing volatile solution. It can form a layer of waterproof protective film. This film can avoid skin contact with irritants such as tape, adhesives and secretions, thereby avoiding skin allergies or infections.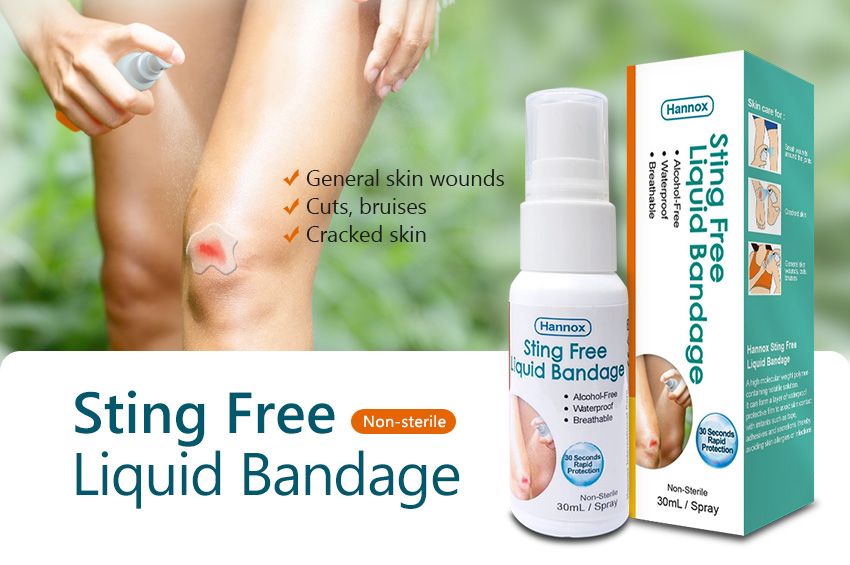 Skin care for below situations
Cracked skin.
Small wounds around the joints.
The surrounding skin of incontinence.
General skin wounds, cuts, bruises.
Ingredients
Isododecane, Dimethylpolysiloxane, Trimethylsiloxysilicate, Hexamethyldisiloxane and Silicone Acrylic Polymer.
Directions for Use
Clean the skin wounds.
Depending on the size of the wound, spray about 5 ~ 10 cm away.
Before the spraying, the skin folds should be unfolded, and the skin should be released after drying.
Depending on usage, it is recommended to reuse this product to maintain optimal coverage.
In order to avoid evaporation, please cover the nozzle immediately after use.
Special Precautions for Use
Always cover the spray head after use to avoid volatilization of the contents.
If you have any allergies, stop using it and seek medical advice.
Avoid use outside the skin (eg. eyes, mouth, ears, nose, deep wounds).
Avoid use in wounds where tissue fluids or blood is still seeping.
This product is not an eye drop. If the accidentally drop it on eyes, rinse with plenty of water and seek medical attention as soon as possible.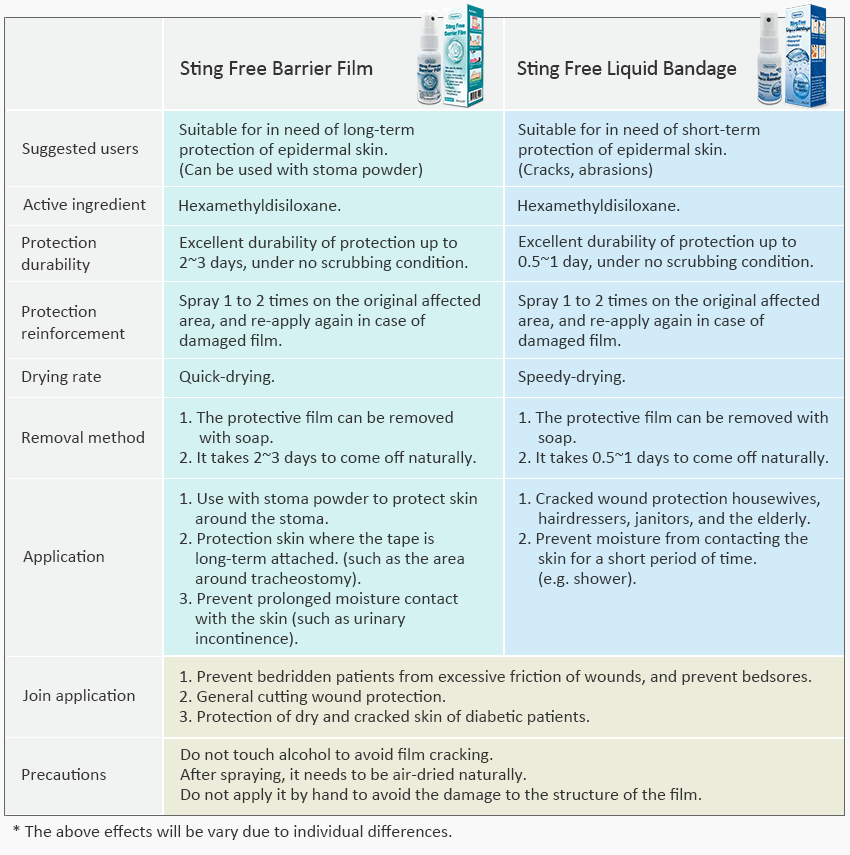 OEM / ODM Cooperation is Welcomed
For any further question ( Minimum Order Quantity, Prices or Domestic Distributor), please fill out the inquiry form, we will get back to you as soon as possible. Let us work together to make your product come true and hit the market successfully.
Related Products

---

Files Download

---