---
Portable Intermediate Stimulator
HX-350-TENS
Ease body pain, dual isolated channels design for one or two targeted area use in the same time.
TENS Stimulator
Introduction
Portable Intermediate Stimulator - Pain Relief, Muscular Sports, Relaxation
HX-350-TENS Portable Intermediate Stimulator use intermediate frequency current technology to produce the same biological current as human body to ease body pains and relax the muscles.
Due to HX-350-TENS is designed with dual isolated channels, the electric stimulation can be operated on one or two targeted area or apply to two persons in the same time.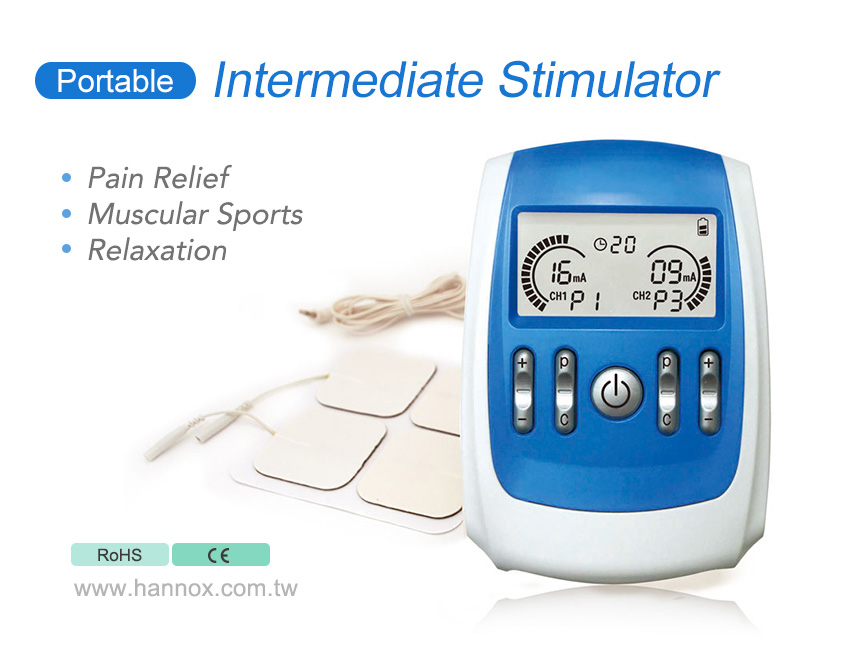 Features
Portable device
Both indoor and outdoor use
Dual channels (Isolated)
Graphic user interface
Specification
| | |
| --- | --- |
| Frequency | 3000 Hz |
| Intensity | 30 levels |
| Operation program | 10 programs (P0 ~ P9) |
| Time setting range | 10 ~ 30 min. |
| Operation environment | 0 ~ 40 ℃ humidity < 80% |
| Operating altitude | 2000 M |
| Battery type | 4 pieces of AA batteries / USB cable |
Note
TENS (Transcutaneous Electrical Nerve Stimulator)
A safe, non-invasive, drug free method of pain relief used by Physical Therapists & prescribed Doctors for over 30 years. Those stimulating pulses of TENS help to decrease pain by blocking pain signals from reaching the brain. They also help stimulate production of endorphins--the body's natural painkillers.
EMS (Electrical Muscle Stimulation)
The low voltage electrical currents of EMS cause muscle contractions. EMS differs from TENS in that it is designed to stimulate muscle motor nerves, while TENS is designed to stimulate sensory nerve endings to help decrease pain.
IF (Interferential Frequency)
It is a more complex development than TENS, and is a unique way of effectively delivering therapeutic frequencies to tissue. Compared to TENS, the Electrical stimulation of IF produces penetrate into the deeper tissues, and more comfortable.
Related Products

---

Files Download

---