---
Infrared Forehead Thermometer
HX-YT1
Non-contact body temperature taking. Distance prompt function. Sound on/off function.
Non-Contact Thermometer
Introduction
NON-CONTACT FOREHEAD TEMPERATURE MEASURING
This device is used to measure the forehead temperature of the human body; it is intended for use on people of all ages except pre-term babies or very small (small for gestational age) babies.
Measure temperature of human body
Point the infrared thermometer probe at the center of eyebrow, within 0-5cm of the forehead.
Press the Start measuring button. After about 1 second, the infrared thermometer will have vibration and sound prompts to display the measurement results.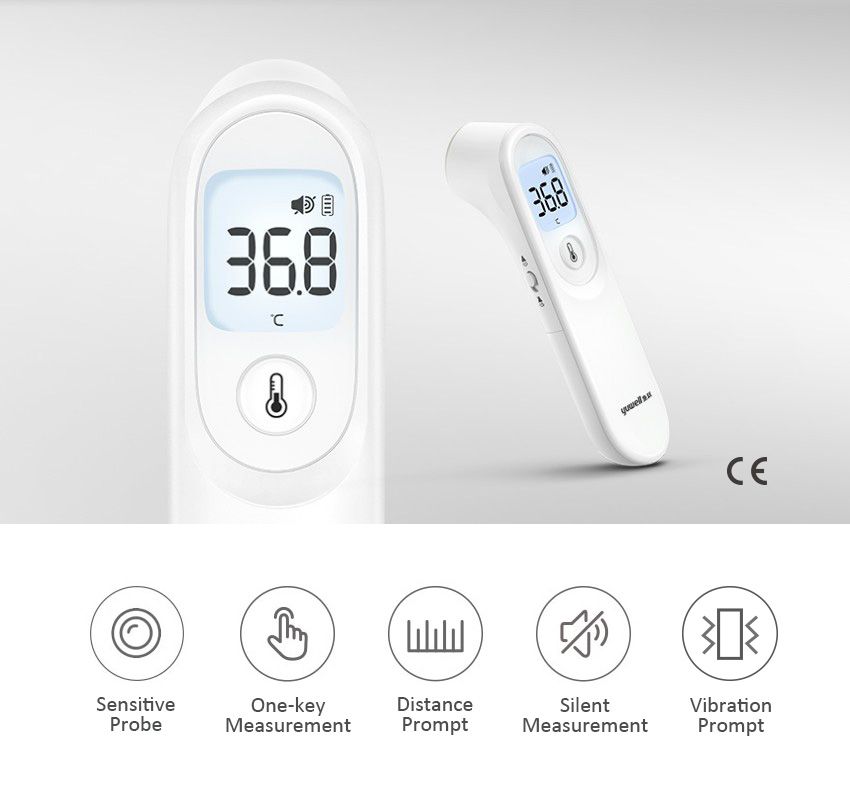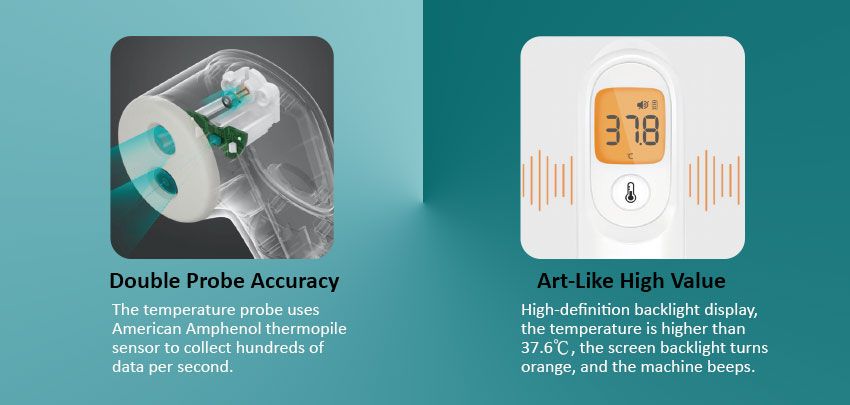 Notes:
When the measurement distance is more than about 5 cm, the word "0-5" will be displayed on the screen, please close to the subject, as the picture shown at right.
When the measurement distance is less than about 5 cm, the device will automatically measure, after the measurement, it will vibrate and have "di" sound, and measurement result will be displayed.
When temperature is 37.6 ℃(99.7℉) or higher, the device will make quick continuous three-time "di-di-di" alarm sound.
When the measured result is beyond device measurement range 32 ℃~43 ℃(89.6℉~109.4℉), thermometer will make quick continuous three-time "di-di-di" alarm sound, please make sure the measurement method and the external environment is normal at this time.
Features
Exquisite appearance design
Sensitive probe
One-key measurement
Distance prompt
Silent measurement (sound on/off switch)
OEM / ODM Cooperation is Welcomed
For any further question ( Minimum Order Quantity, Prices or Domestic Distributor), please fill out the inquiry form, we will get back to you as soon as possible. Let us work together to make your product come true and hit the market successfully.
Specification
Measurement Range
Human body temperature mode: 32.0°C ~ 43.0°C
Display Resolution
0.1°C
Measurement Place
Forehead
Accuracy
2.0°C~34.9°C, maximum permissible error ±0.3°C
35.0°C~42.0°C, maximum permissible error ±0.2°C
42.1°C~42.9°C, maximum permissible error ±0.3°C
Display Screen
LCD screen with 4-digit and special icons
Operating Environment
Max. relative humidity
10°C ~ 40°C
≤85%
Storage Environment
Max. relative humidity
20°C ~ +55°C
≤85%
Battery
2x 1.5V AAA batteries
Related Products

---

Files Download

---