---
HI-MUPRO Nasal Spray
HX-N12
Nasal Spray provides a moisture, clean nasal passages. It helps reduced sinus pain, nasal congestion and nasal dryness symptoms.
Nasal Gel
Introduction
KEEP YOUR NASAL PASSAGES MOISTURE & CLEAN
If your nasal and sinus secretions are too dry, sinus pain, nasal congestion, sinusitis, and other symptoms can develop. Using the Nasal Spray can keep these delicate structures moist.
Nasal Spray is a hypertonic saline gel spray contain polyvinylpyrrolidone(PVP) and baking soda. PVP has high bioadhesive ability that to attach the nasal mucosa. It can help to keep the moisture of nasal mucosa and capturing dust particles. Baking soda can soften and dissolve thick mucus and help clear nasal passages.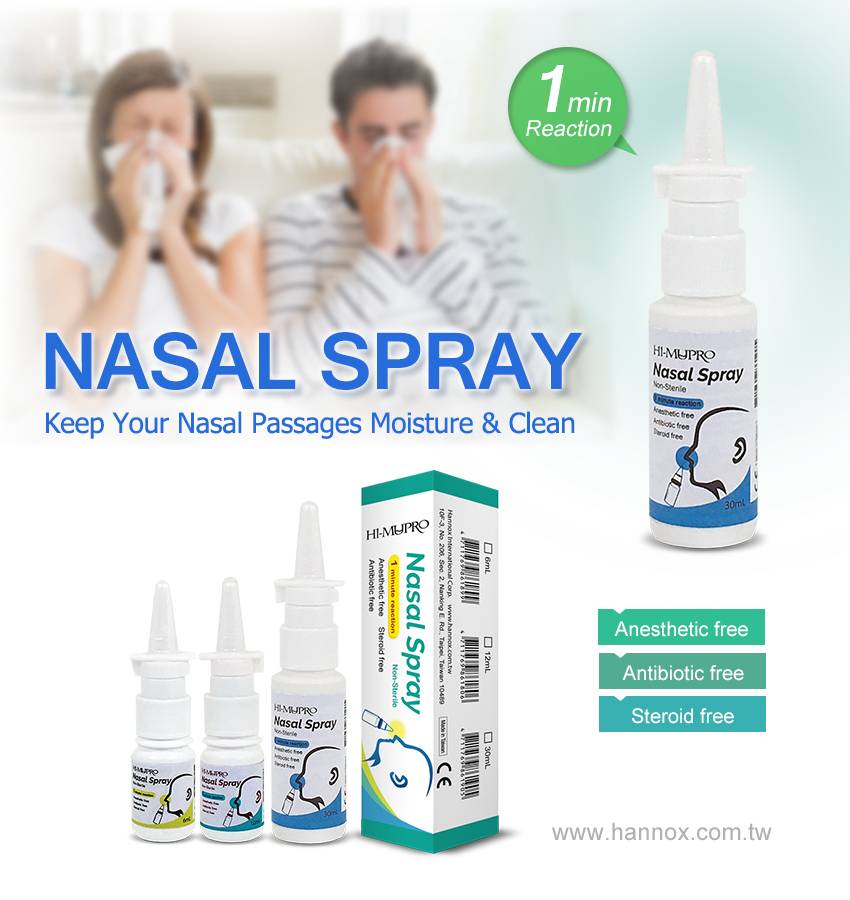 Features
1-minute reaction
Anesthetic free
Antibiotic free
Steroid free
Ingredients
Pure water, Polyvinylpyrrolidone K-90, Propylene glycol, Sodium chloride, Sodium bicarbonate.
Intended Use
Sticky nasal mucus
Chronic sinusitis
Atrophic rhinitis
Head and neck radiation therapy

OEM / ODM Cooperation is Welcomed
For any further question ( Minimum Order Quantity, Prices or Domestic Distributor), please fill out the inquiry form, we will get back to you as soon as possible. Let us work together to make your product come true and hit the market successfully.
Related Products

---

Files Download

---