---
Arm Type Blood Pressure Monitor
HX-200A
Professional blood pressure monitor.
For self-monitoring at home which requires no prior experience.
One-touch auto measuring.
Big, easy-to-read LCD display.
High accuracy.
Upper Arm Blood Pressure Monitor
Introduction
Large LCD display & easy to read.
HX-200A Blood Pressure Monitor has been designed with FUZZY logic to accurately measure the systolic blood pressure, diastolic blood pressure & heart beating pulse.
90 Sets of memory function to store the readings for record comparison.
All the functions will be performed with simple & easy steps.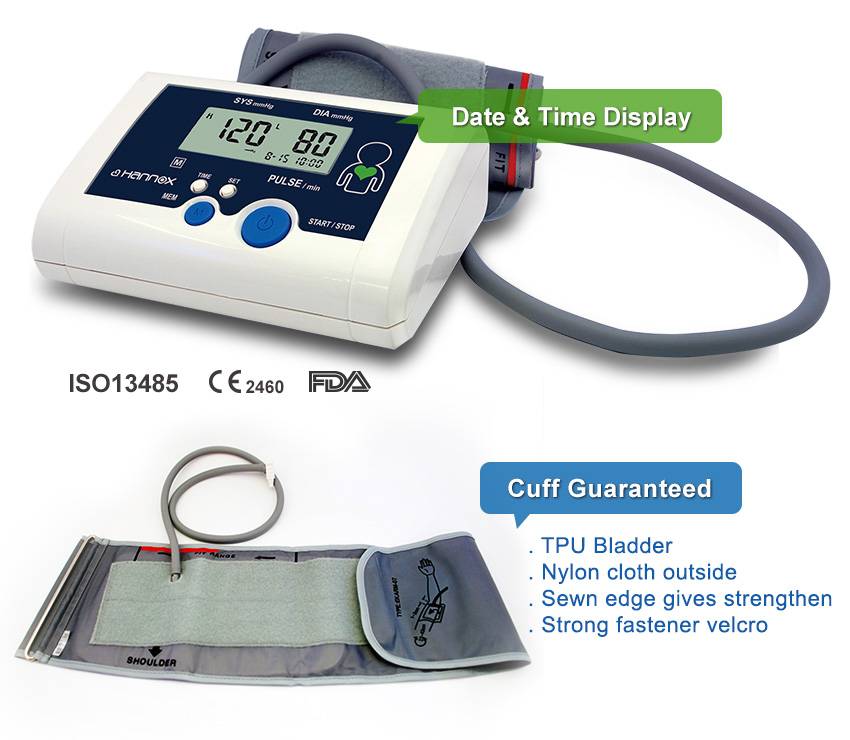 &nbsp
Easy-Wrap Cuff with Warranty
Use Capacitive Sensor
The type of sensor used affects the accuracy of measurement, and we choose capacitive sensor as it offers high temperature tolerance and stable performance.
Japanese Microchip Inside
High performance and steadily microchip provides accuracy signal processing.
Medical Grade TPU Cuff with Warranty
High elastic stability TPU cuff allows prolonging cuff's operational life span.
OEM / ODM Cooperation is Welcomed
For any further question ( Minimum Order Quantity, Prices or Domestic Distributor), please fill out the inquiry form, we will get back to you as soon as possible. Let us work together to make your product come ture and hit the market successfully.
Features
Less noise during measurement
Accurate, reliable, comfortable
Design by Japanese company
Capacitive sensor offers high temperature tolerance and stable performance
Japanese microchip provides accurate signal processing
Medical grade TPU cuff with warranty
One touch automatic measurement
90 memories with date and time
Both are available for DC (Battery) & AC (Adapter jack)
Anti-Reflection display
Special construction to withhold batteries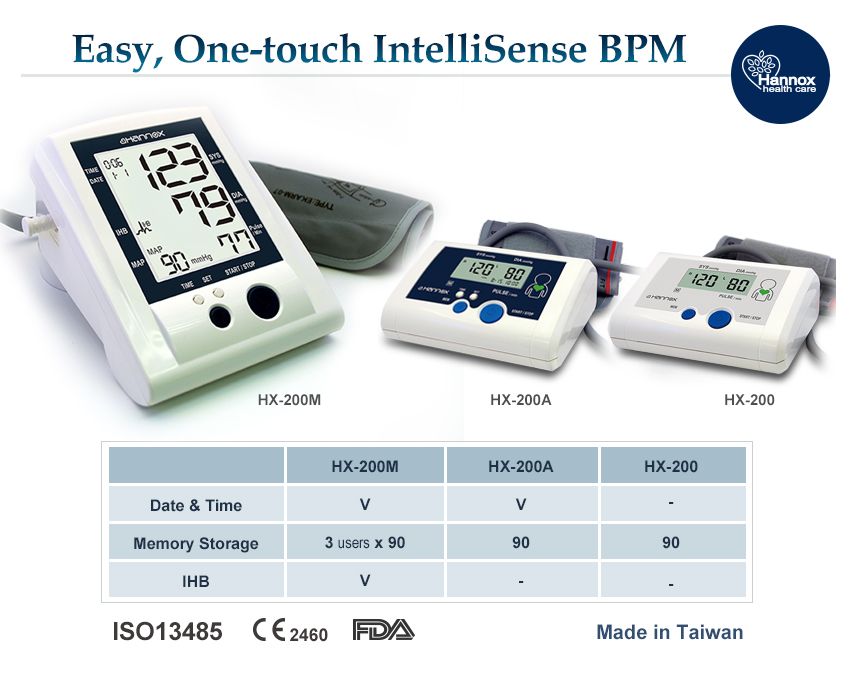 Specification
TYPE
ARM
UNIT FUNCTION
Systolic BP, diastolic BP & heart beating pulse
MEMORY
90 memories
TIME
DATE, TIME
POWER SOURCE
4 AA BATT. / AC (OPTIONAL)
MEASURE METHOD
OSCILLOMETRIC
MEASURE RANGE
Pressure (mmHg) : 20-280
Pulse (beats/min) : 40-200
Pressure accuracy : ± 3mmHg
Pulse accuracy : ± 5%
CUFF SIZE (standard)
22 - 32 cm
DIMENSIONS(mm)
H60 x W105 x L154
WEIGHT
390g
OPTIONAL
Large cuff 22 - 42 cm
AC adaptor
CERTIFICATE
ISO13485, CE2460, FDA
Related Products

HX-200

---

For self-monitoring at home which requires no prior experience. One-touch auto measuring. Big, easy-to-read LCD display. High accuracy.

---

HX-200M

---

Supports auto measurement, up to 3 multi-user with individually 90 sets of memories, and IHB detection.

---

---

Files Download

---