---
Mosquito Repellent Patch (12hrs)
Oil of Lemon Eucalyptus
.All natural containing no DEET
.Non-toxic, safe to use.
.Each patch is effective up to 12 hours.
.Has been tested and certified by the SGS.
.Contains Lemon Eucalyptus shown in studies to be highly effective in repelling mosquitoes, cockroaches, and other insects.

According to WHO, Zika virus can be prevented by using mosquito repellent patch as this can protect from mosquito bites.

Source: http://www.who.int/features/qa/zika/en/
Mosquito Patch
Introduction
Keep mosquito away - Deet free
Can be placed almost anywhere - shirts, hats, chairs, strollers, tables, bedsides and more.
Not harmful to the environment.
Has a natural citrus scent.
No skin contact required - no discomfort found with sprays or lotions.
Easy to put on and take off - It won't leave marks on clothes.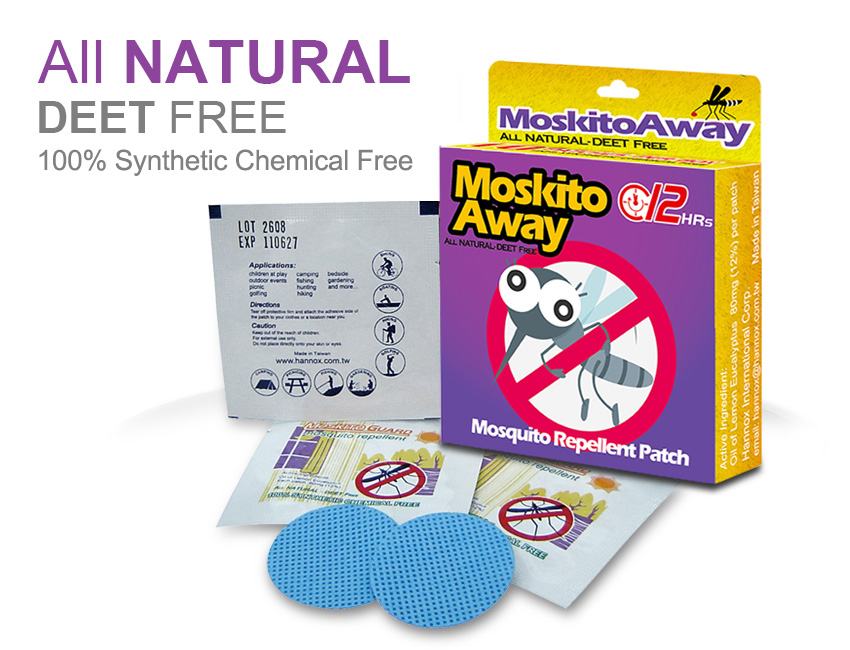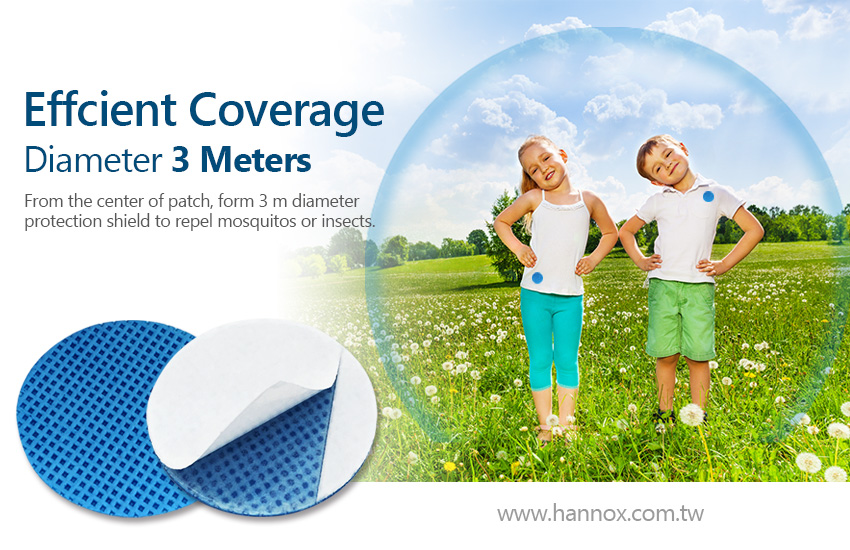 Features
Natural Ingredient: Essential Oil, Citronella oil and/or Oil of Lemon Eucalyptus, CitriodioⓇ (Contents PMD ≧64%)
DEET Free
Duration > 12 hours
Made in Taiwan
Ideal for outdoor activities such as: Camping, Mountain Climbing, Gardening, Hiking, Boating, Picnic, Sports, Barbeque, Biking
Specification
All Natural - DEET Free
Efficient Coverage: 3 meter in diameter
Patch Size: 4 cm in diameters
Weight: 80mg / patch
Ingredient: non-toxic lemon Eucalyptus, 10% w/w, CitriodioⓇ (Contents PMD ≧64%)
Related Products

Citronella Oil

---

.Keep Away ZIKA & Dengue .Repel Aedes Aegypti & Aedes Albopictus .CitriodioⓇ (Contents PMD ≧64%) .Diameter 3 Meters Efficient Coverage According to WHO, Zika virus can be prevented by using mosquito repellent patch as this can protect from mosquito bites. Source: http://www.who.int/features/qa/zika/en/

---

---

Files Download

---